Clare Murphy (Glasgow North)
Background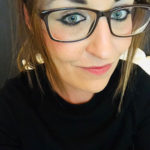 I have been a general practitioner for 17 years, having completed VT in North Lanarkshire 2004, moving to Greater Glasgow HB where I have remained since 2005.
I held two associate positions until 2011, working in the West end of Glasgow, until I took over my current practice. This was firstly in partnership and now as sole principal with 2 associates. This year sees a decade of practice ownership, (but the wrinkles to suggest two!)
I joined the LDC upon recommendation following the 1st  (successful) practice inspection I was completely responsible for! I have been on the committee for 6 years now. As part of my role as liaison, I organise CPD events at RCPS.
I regularly attend conference, and have represented motions each year, which have been adopted and taken to SG.
LDC affords me the opportunity to raise local issues, and wider issues that affect all GDP's. Often these issues have been raised by a constituent, and are taken directly to the Oral Health Directorate and the Directory of Dentistry at our monthly meetings.
I am an elected member of the Scottish Dental Practice Committee and SDPC exec committee, representing general practice at Scottish Government level.
From these positions, I have been involved in the New Funding Model Working Group, as we enter an uncertain future for dentistry, with an unlikely return to the SDR as we know it.
Before COVID, these discussions centred on the OHIP.
SDPC work tirelessly to represent our interests, and we receive significant draft documentation which often requires a lot of reading, and consideration in order that we provide realistic input. This is the only means which allows a PCA to arrive in workable format for general practice.
Skills
I am organized, approachable and helpful. My time on these committees has ensured I am well versed in policy, change and the necessary steps in how to affect it constructively. I am experienced in the issues we face clinically, in maintaining best practice and in balancing this with a viable business.
When a constituent gets in contact and I don't have an immediate answer, I know where to find it, and make it a priority.
I would be grateful for your consideration, and your vote, as I feel my contribution comes from a place of experience. I think going forward, and in negotiating the 'new normal' this sort of input may be vital for general practice to remain sustainable.
Email: Tf41ry@gmail.com