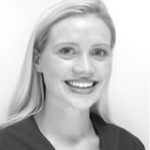 Naomi Byrne BDS MFDS RCPSG PGDip Con Sed
Since graduating from The University of Glasgow in 2008, I have had the pleasure of working in both primary and secondary care. I completed my Vocational Training in a busy NHS practice in Lanarkshire; followed by my Dental Foundation year in Glasgow Dental Hospital and the Salaried Dental Service in Glasgow North. Subsequently, I undertook Senior House Officer jobs in both Glasgow Dental Hospital and University Hospital Crosshouse. I have been working in The Albion Clinic, a predominantly NHS oral surgery referral practice, since 2013. Since 2010, I have also worked in Glasgow Emergency Dental Service. My varied career thus far has given me a depth of experience into the inner workings of a variety of dental contexts.
I am highly motivated and hardworking. I thoroughly enjoy my work as a dentist; however, I also appreciate that there are many important issues that can impact upon both our working lives and our general welfare. These issues include: those that directly affect the new funding model, the implications of COVID-19, maternity allowances, referrals to secondary care, access to occupational health, and many more. I have had the pleasure of being an active member of Greater Glasgow and Clyde Local Dental Committee (LDC) for the past three years. I also represent the LDC, sitting on the Area Dental Committee (ADC). As a current Committee member, I am proud to be part of the LDC's active campaign to get the best possible outcomes for GDPs. Now, more than ever, we need to appreciate the importance of the GDP voice. I am friendly and approachable; I am eager to assist with any concerns that my fellow GDPs may have. I hope to be re-elected and, in doing so, can represent my fellow GDPs in a helpful and professional manner.